Testosterone Replacement Therapy
Learn how we can help you get your energy, motivation, and sex drive back!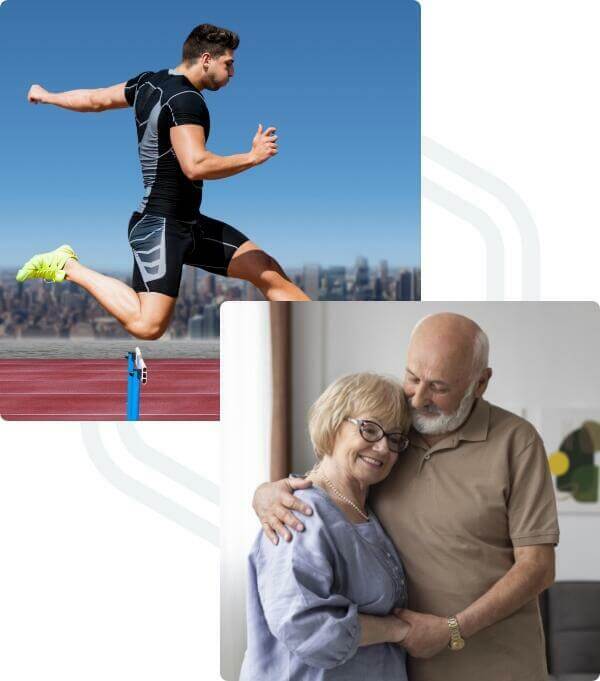 Testosterone Replacement Therapy
Testosterone is a hormone that is primarily produced in the testicles of males once they begin puberty, and that production continues throughout the majority of their adult life. Most men naturally begin to produce roughly 1% less testosterone every year after they turn 30, however, some men lose testosterone at a much more rapid rate. For these men who are experiencing low testosterone, also known as hypogonadism, the condition can be exacerbated by conditions such as diabetes or obesity.
It is important to determine if a patient's low testosterone is due to normal aging or if it is due to hypogonadism before beginning treatment. Men with hypogonadism can greatly benefit from testosterone replacement therapy and many will begin to see results in as little as 3 to 6 weeks. If you think this hormone replacement therapy might work for you, reach out to our team today to see if you qualify for testosterone replacement therapy and learn how we can help you get your energy, motivation, and sex drive back!
What Causes Low Testosterone?
There are several things that could lead to a man having or developing low testosterone, or hypogonadism. Causes may be inherited, the result of a disease or health condition, due to an accident or damage, or other circumstances. Determining the underlying cause of a patient's low testosterone is essential in deciding what treatment options would work best for them.
Underactive testes are the underlying cause of primary hypogonadism. This causes the testes to underproduce the necessary amount of testosterone for a male to be healthy. The most common causes of underactive testes include:
In primary hypogonadism, the damage must occur directly to the testes to cause the lack of testosterone to occur. Secondary hypogonadism, on the other hand, occurs when there is damage to the pituitary gland or the hypothalamus.
Damage to these areas of the brain causes a disruption in the way that necessary hormones are produced which can lead to a lack of testosterone production.
What Are the Symptoms of Low Testosterone?
While testosterone levels gradually decline as men age, for some men these levels can become abnormally and extremely low. Not all men with low testosterone (also known as "low t") will exhibit symptoms, but for those that do, testosterone replacement therapy can be an option. The most common symptoms of low testosterone levels are:
Low libido (low sex drive)
Erectile dysfunction
Fatigue
Low energy levels
Anemia (low iron levels)
Decreased muscle mass
Lack of or loss of body and facial hair
Difficulty concentrating
Depression
Irritability
Low self-esteem
Increased weight gain
Frequently, the first things that men notice are a lack of energy and a low sex drive. In more severe cases of low testosterone, men may experience erectile dysfunction which can severely hinder their self-esteem and sex life. With our telehealth trt (testosterone replacement therapy) services, we strive to restore hormone levels, erectile function, and sexual performance, which sometimes also results in weight loss and improvement in other health conditions.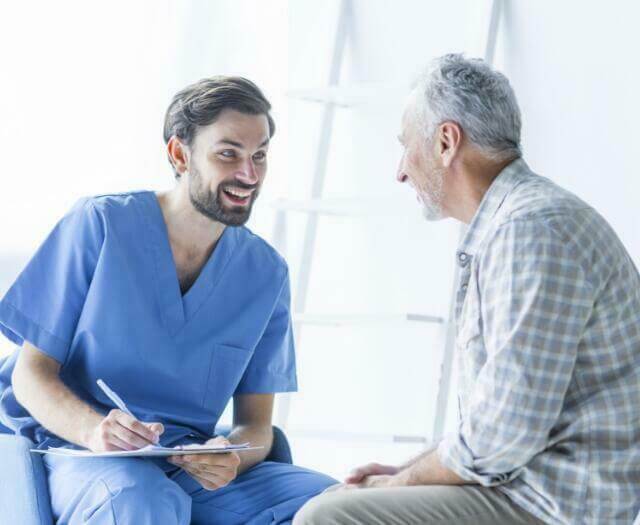 Individualized Treatment for Best Results
Every man is different, so no two treatment paths are going to be exactly the same. We take the time to understand your unique situation and the underlying conditions that are contributing to your low testosterone.
By working with you one on one at our men's testosterone clinic, we can help create the perfect treatment plan for you that will have you feeling young, strong, healthy, and virile again in no time. We'll get you scheduled for labs at your earliest convenience.
Types of Testosterone Medication
Testosterone medications come in many different forms. While oral  medications exist, they are not frequently used or recommended because there has been some evidence that oral testosterone medications can negatively affect the liver.
Instead of taking a pill every day, most testosterone medications come in the form of a skin or mouth patch, a topical gel, soft tissue implants, or injections. Depending on the type of medications you take, they may be applied daily or twice weekly.
In most cases, you will be able to pick which type of medication you'd prefer, however, you should take your doctor's advice into consideration. For some men, only certain options may be available depending on how severe their symptoms are, if they have any potential health concerns, or how low their testosterone levels are to start.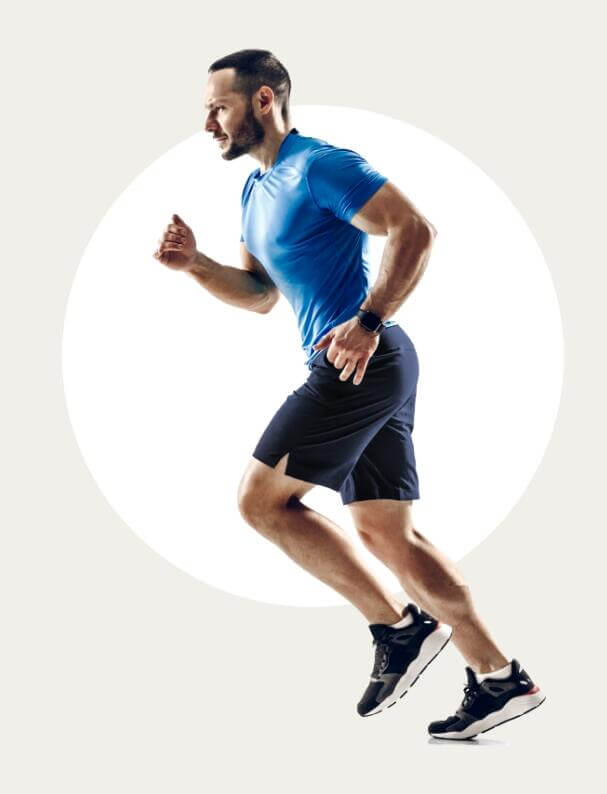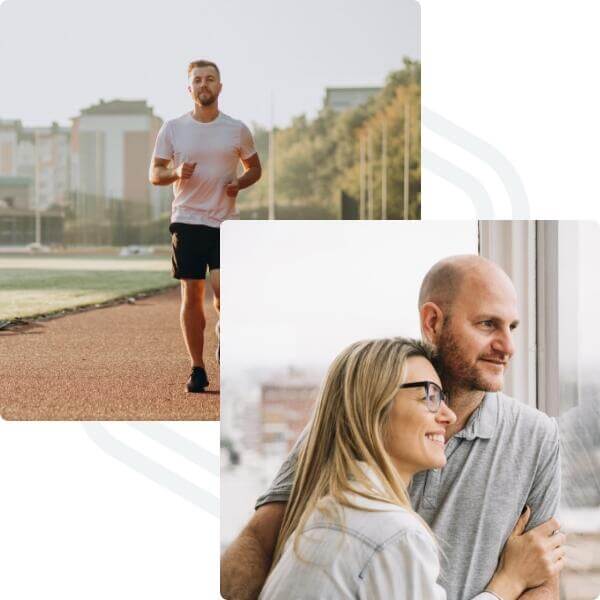 Benefits of the Treatment
The benefits that a man can expect to receive at low testosterone treatment clinics include a reduction of low t symptoms: heightened libido, improved energy levels, increased happiness, and overall better moods. Some men may also experience other physical benefits from a boost to their testosterone including, muscle mass, insulin sensitivity, and bone density.
Although most men will experience some combination of these benefits, not all men experience the same benefits from testosterone replacement therapy, however. Depending on your current testosterone levels as well as a variety of other considerations, you may experience anything from a slight boost to a massive change.
It is important to remember that it takes time for testosterone replacement therapy to build up the testosterone levels in your body. Most men will begin seeing results within 3 to 6 weeks of starting treatment but the biggest results will happen around the 3-month mark.
Benefits of the Treatment
While low testosterone is often not directly responsible for erectile dysfunction, it can severely impact a man's sex drive and libido. Your sex drive will typically be one of the first things to return, often as early as three weeks into your treatment plan.
A heightened libido not only improves sex drive and deeper sexual desire, but it can also help to improve performance – leading to a healthier, happier, and more satisfying sex life.
Increased Happiness, Energy, and Improved Moods
Low testosterone levels have been directly linked to irritability, chronic fatigue, depression, and an overall lower quality of life. Studies have shown that testosterone replacement therapy may be an effective anti-depressant treatment option for men with hypogonadism.
It is important to determine if your fatigue and depression are directly related to hypogonadism before beginning testosterone replacement therapy though. If your depression has another underlying cause, then you may not see the results that you are hoping for.
Men with hypogonadism, however, should see results from their treatment and should experience a better mood, better sleep, and an overall improvement in their quality of life and enjoyment of life in 3 to 6 weeks.
Start Your Wellness Journey Today
Testosterone replacement therapy, also known as androgen replacement therapy is a medically approved treatment option for patients that are experiencing hypogonadism, or low testosterone.
1
Step One
Men are tested for low testosterone through blood tests, typically one taken early in the day and one taken just before noon. In some cases, imaging tests or additional hormone testing may be done to determine how your body is producing, or not producing, its levels of testosterone throughout the day.
2
Step Two
The treatment works by prescribing men with hypogonadism a prescription amount of testosterone either as an injection or a cream. This prescription is applied either daily or twice weekly, depending on the type chosen, and most men will begin to see results within 3 to 6 weeks.
3
Step Three
This prescription helps to increase levels of testosterone in a man's bloodstream which leads to increased virility, stamina, strength, energy levels, mood, sexual satisfaction, and so much more.
Frequently Asked Questions
Don't Wait to Get Relief From Your Low Testosterone Symptoms
It takes time to get results from testosterone replacement therapy, but there's no point in waiting for your symptoms to get worse before you seek treatment. If you are struggling with depression, lethargy, lack of motivation, a low sex drive, low muscle strength, or erectile dysfunction don't wait any longer!
Reach out to our testosterone replacement therapy clinic team today to learn how we can help you get back to your old self. The sooner that you start testosterone replacement therapy, the sooner that you will get that boost to your energy, libido, and mood and you'll be able to get back to doing the things you love.